Safe to School – Safe to Home Engages 780 Students in China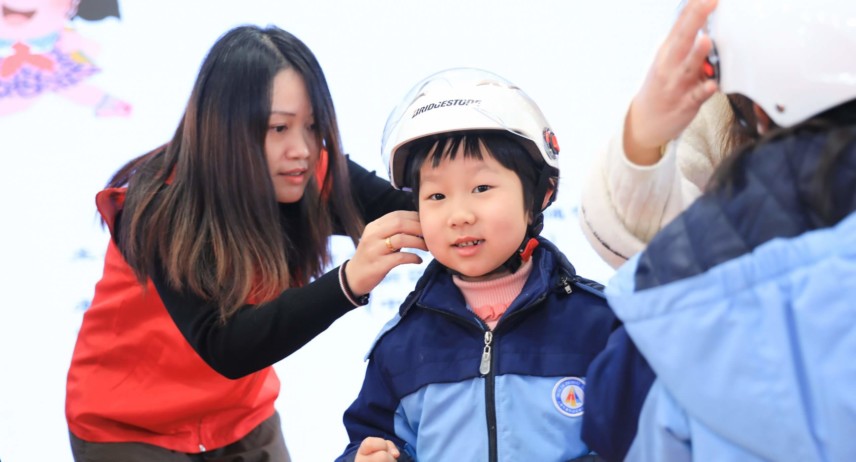 In December 2021, the Bridgestone-sponsored Safe to School – Safe to Home programme was officially launched in Shanghai, China. The first set of activities encompassed a series of surveys for 780 students and their parents, as well as an observational survey that helped Safe Kids China and 11 Bridgestone China volunteers assess student behaviour on their way to school, together with road infrastructure issues surrounding each school's location.
Once the results of the surveys had been processed, an educational curriculum and teaching tools were developed in order to produce a 'Magic Box'. The curriculum itself was comprised of safe crossing and seat-belt and helmet-wearing knowledge; in addition, the tools consisted of an egg helmet, a standard helmet and a crossing line mat. A letter was provided to the parents as well, so as to maximize positive road safety behaviour within the families. These materials were well-received by every participating group. School students also received helmets donated by Bridgestone.
Additionally, five infrastructure improvements were successfully executed. Said developments consisted of two zebra crossings, one pedestrian area, the addition of a school sign for drivers and one safe behaviour sign to serve as a reminder for children.
"It is such a pleasure that our employees participated [in activities] for road safety for children," explained Crystal Tian, CSR manager, BSCN PR and Corp Communications Department.
"Thanks to Bridgestone's support, the programme could reach out to the school to educate students and improve the school zone, which will not only benefit the school, but thousands of people and families of the community as well," said Executive Director of Safe Kids China Monica Cui.
Sign up for our newsletter