Dr Judy Fleiter Receives the ACRS Fellowship for Her Exceptional Career in Road Safety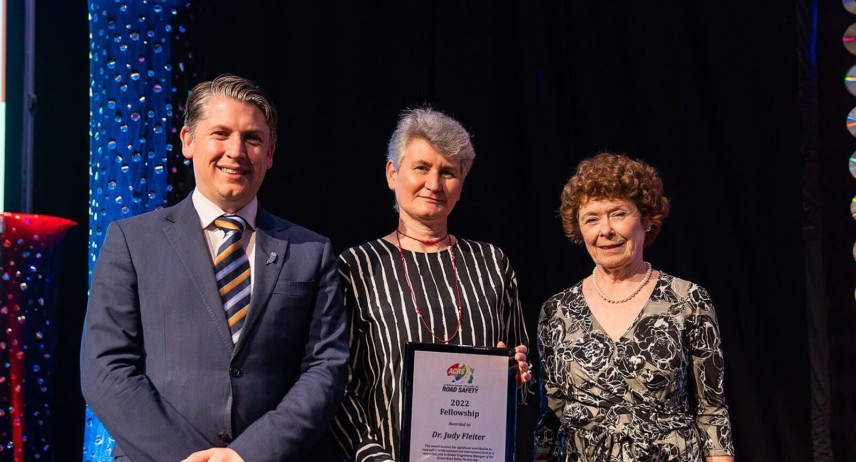 The Global Road Safety Partnership (GRSP) is thrilled to congratulate Dr Judy Fleiter who was awarded the Australasian College of Road Safety's (ACRS) most prestigious award on 29 September 2022. Dr Fleiter was honoured with the ACRS Fellowship at the Australasian Road Safety Conference in Christchurch, New Zealand. Further, the award was presented by the New Zealand Minister for Transport Hon Michael Wood, ACRS President Professor Ann Williamson and ACRS CEO Dr Ingrid Johnston.
Initially, the ACRS established the award of College Fellow in 1991. The list of Fellows that have been recognized as outstanding road safety professionals has been growing each year thenceforth. These professionals are acknowledged for their exceptional career commitment and efforts to advance the field of road safety and reduce road trauma. The ACRS Fellowship is the Australasian road safety community's highest honour.
For over 20 years, Judy has studied, researched and worked with a keen focus on road user behaviours and how to improve the safety of every person as they interact with the road network. Her research and work have spanned many countries and for the last six years, she has led GRSP's contribution to the Bloomberg Philanthropies Initiative for Global Road Safety (BIGRS).
Judy's work to improve global road safety outcomes includes road safety capacity building efforts in Mexico, Colombia, Brazil, China, Indonesia, Thailand, Philippines, Bangladesh, Argentina, Viet Nam, India, Ghana, Ukraine, Ethiopia, Tanzania, Kenya, and Ecuador. She has contributed technical expertise and a keen understanding of how people interact with traffic systems in areas including legislative improvements, policy advocacy, road safety strategy development, legislative implementation, enhancing road policing enforcement capacity, and the development and delivery of road safety leadership courses.
"Judy's award is an acknowledgement of the enormous contribution that she has made to improving global road safety, particularly in low- and middle-income countries where the needs are greatest," said David Cliff, CEO of GRSP. "Judy has been an exemplar of dedication and commitment to following the evidence as to what we know works and being a tireless road safety champion. GRSP has been privileged to have Judy working as our Global Manager since 2016 and we offer our sincere congratulations for this richly deserved recognition."
Sign up for our newsletter