2018 SABRE Asia Pacific Awards to "Slow Down Daddy" a Shell Myanmar, Today Ogilvy & Mather, Myanmar Red Cross, and GRSP campaign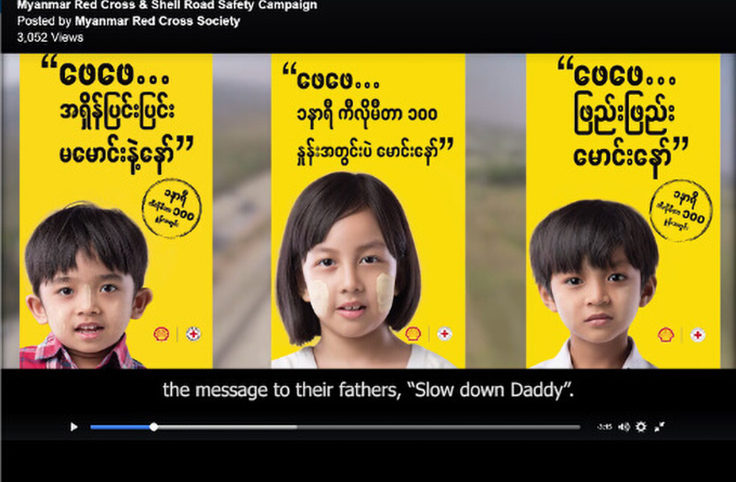 On September 11, 2018, Shell Myanmar, Today Ogilvy & Mather and the Myanmar Red Cross were awarded with the Gold prize for the "Slow Down Daddy" road safety campaign at the 2018 SABRE Asia Pacific Awards in the industry category, Energy & Natural Resources.
The Superior Achievement in Branding, Reputation & Engagement (SABRE) Awards is an international recognition for outstanding work in marketing and communication fostering engagement, credibility, and relationship building.
This winning project aimed to curb speeding on the so-called "Death Highway," the Yangon to Nay Pyi Taw Highway—the most dangerous stretch of road in Myanmar.
The campaign idea is simple, direct and effective and uses a range of communication methods to share road safety messages with the target audience. Billboards placed along the highway feature messages from children to driving fathers asking them to slow down. A video was also produced and shared widely on social media where a driver's child was interviewed. The father, unaware of the interview, was then shown the video in a public space and his reactions were recorded with a hidden camera. The final edited video juxtaposes the messages of love from the child requesting 'Daddy to slow down' against the father's reaction. Further social media messaging and informational pieces were also produced targeting specific risk factors such as use of seat-belts and mobile phone use while driving.
A worthy winner, this emotional and powerful campaign contributed towards a decrease in road crash deaths on the target section of road from 170 in 2016 to 116 in 2017.
Having played a key role in the scoping, development and implementation of this campaign, GRSP is proud to congratulate Shell, the Myanmar Red Cross and Today Ogilvy & Mather for this achievement and we look forward to moving forward with Phase 2 of the "Slow Down Daddy" campaign.
Sign up for our newsletter